2-bedroom Apartment For sale in Las Colinas 90 m2 - ART1964C0F16
Las Colinas Golf & Country Club is a 330-hectare exclusive residential community on the Spanish Mediterranean coast, with a low housing density and built around an 18-hole championship golf course. Enjoying a privileged location near the coast, nestling in a valley surrounded by hills to the south of Alicante, it offers wide-ranging sports, leisure, accommodation and restaurant amenities, including, apart from the excellent golf course, a private Beach Club on the seafront. It enjoys an international reputation for the outstanding design of its homes, the high quality standards of its services and facilities, protection of the natural surroundings and the excellence of its golf course, which is ranked in the top 100 courses in continental Europe. Las Colinas Golf & Country Club stands out for its privacy, natural beauty, exceptional climate, extremely good connections by road, train and air and conservation of the natural surroundings. Its homes, amenities, infrastructures and the golf course itself all blend perfectly into the landscape.Las Colinas Golf & Country Club bets on long-term, high quality residential development.


• Maximum privacy and security: A 330-hectare valley, framed by hills that form a natural barrier and ensure the development is secluded. A single two-way access road, with 24 h security service.

• Unique sense of arrival: Provided by a single entrance to Las Colinas through a canyon that opens out into a hidden valley along which the golf course runs. The canyon is the feature that preserves the intimacy, tranquillity and natural beauty of Las Colinas.

• Las Colinas Golf & Country Club is surrounded by a Nature Reserve comprising more than 10,000 hectares of protected land, which restricts any further residential development.

• Mediterranean vegetation: More than 200,000 sq metres of natural space within the development. Mediterranean vegetation has been preserved with trees and indigenous species used in gardens and landscaping throughout the complex.

• A binding Environmental Protection Measures Plan: This includes a rigorous Sustainable Development and Environmental Protection Plan drawn up by Valencia Polytechnic University. Among other measures, this plan stipulates low levels of noise and light pollution, as well as the use of wooded areas and native plant species in the landscape gardening for the residential community, common and private areas.


Las Colinas Golf & Country Club is located in the south of the province of Alicante, only 4.5 km from the Mediterranean coast. There are over 20 golf courses less than half an hour away from the complex and a large number of marinas. It is extremely well connected by air, road and train.


Naranjo is an exclusive residential community, which comprises three luxury apartments blocks developed in two phases. The commercialization of the first phase, which includes blocks 1 and 2, has already been completed. Block 3 consists of 32 apartments of two and three bedrooms, spread over four floors, southfacing and with large terraces and/or gardens. The Naranjo Community enjoys a privileged location and most of the apartments enjoy panoramic views of the native wooded landscape and out to the Mediterranean Sea.


The apartments in Naranjo Community are spacious homes, thought for outdoor living with the perfect combination of design and practicality.The interiors of the apartments in Naranjo Community are meticulously designed with materials, colours and textures for optimal effect, with the focus on light.Indoor and outdoor living areas merge to form continuous, harmonious spaces. They are designed for harmony and wellbeing, because the most important aspect of a home is the people who live here.


The materials you will find in the apartments in Naranjo Community are superb examples of architecture and interior design. Special care has been taken with materials and textures and the use of space and technology.Ceramic tiles indoors are also used in outdoors for continuity. Kitchens are integrated harmoniously in the main room and are both practical and beautiful.Finishes and installations are made with high-quality materials and luxurious details for their inhabitants, such as underfloor heating in bathrooms, Schüco metal joinery, duct air conditioning, smart home automation, osmosis in kitchens...All in a landscaped setting that more than a garden, connects your home with its surroundings.


Direct offer from a developer. You can make an on-line reservation of a property from a developer without flying to Spain, as well as pay in installments until the property is constructed. It is also possible to obtain a mortgage. You can request additional information (plans, availability and prices) from our sales managers.


| | |
| --- | --- |
| Bathrooms | 2 |
| Bedrooms | 2 |
| Floor | 2 |
| Building floors | 4 |
| Orientation | South |
| | |
| --- | --- |
| Property floors | 1 |
| Built area | 90 |
| Rooms | 3 |
| Beach line | >5 |
| View from the window | Garden, Sea, Golf course |
| | |
| --- | --- |
| Condition | Newly built |
| Style | Mediterranean |
| Flooring | Granite |
| | |
| --- | --- |
| Furniture | Fully furnished |
| Year of construction | 2020 |
| | |
| --- | --- |
| Distance to sea | 6300 |
| Garden | Garden |
| Parking type | Private parking |
| Parking places | 1 |
| Pools | 1 |
| | |
| --- | --- |
| Pool | Communal |
| Security | Gated complex |
| Type of terrace | Private |
| Terrace area | 25 |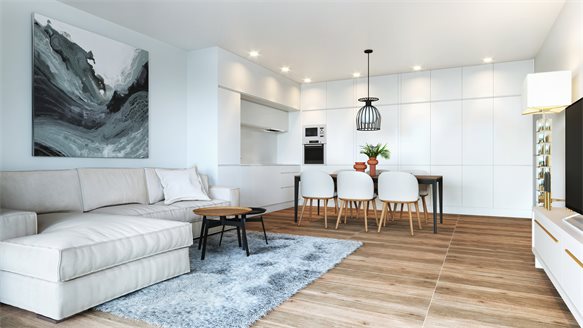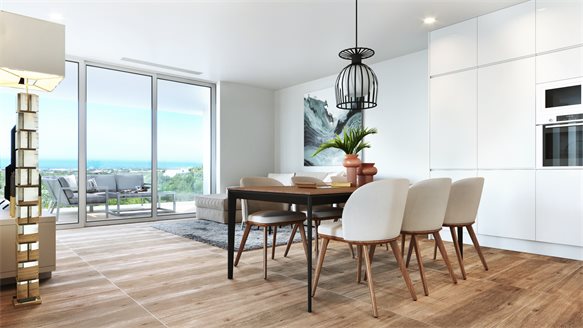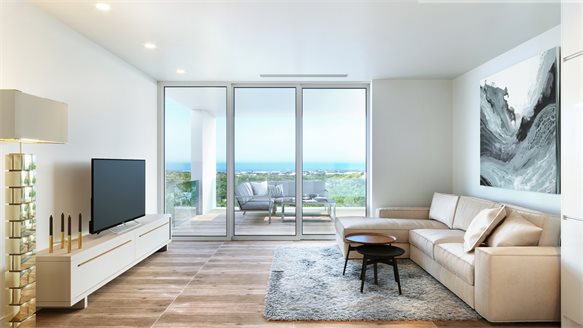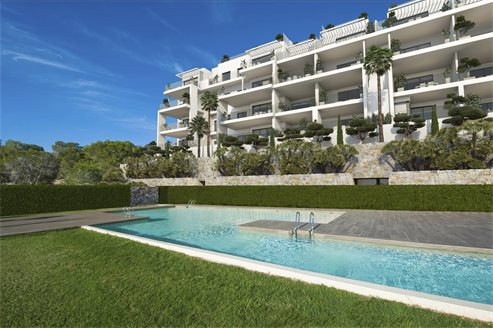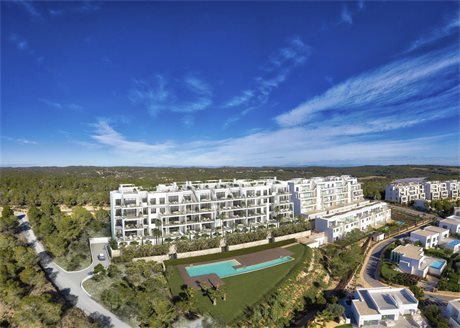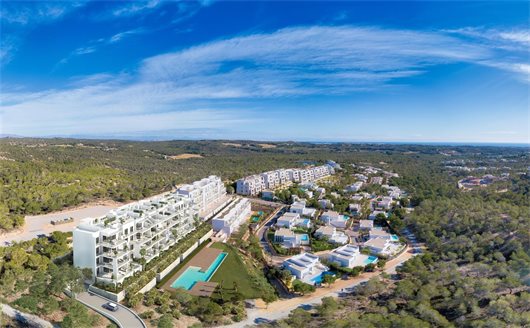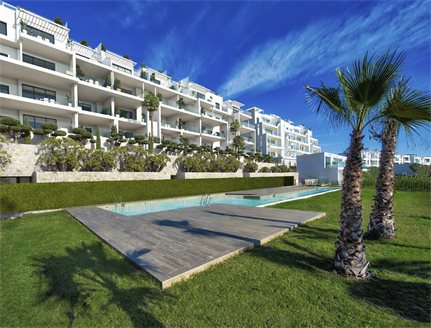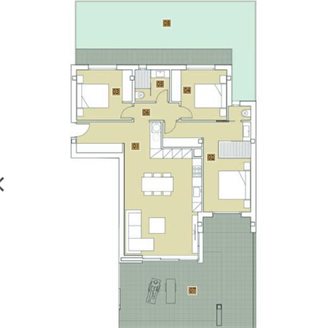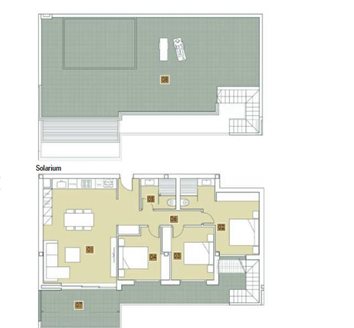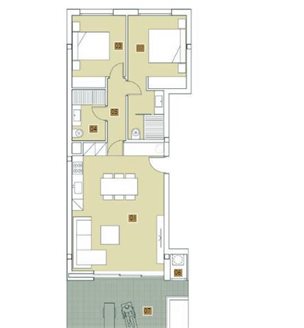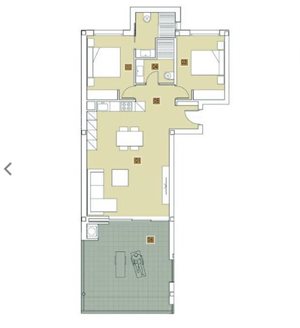 Interested in buying property in Spain?
Send your request and get our immediate feedback!
By sumbitting this form, you confirm that you agree to our website
terms of use
, our
privacy policy
and understand how we store cookies on your device.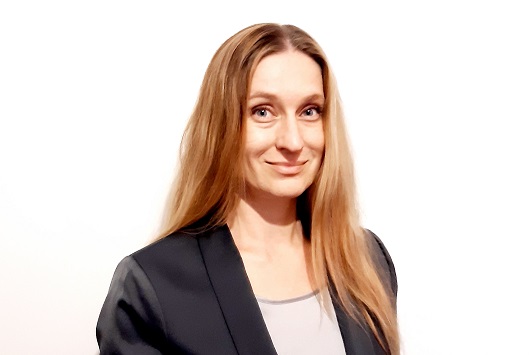 Your manager
Yulia Kaptsiuh
Sales Manager
Subscribe to our newsletter
By sumbitting this form, you confirm that you agree to our website
terms of use
, our
privacy policy
and understand how we store cookies on your device.